Traffic Control Signs, Traffic Cones, Bollards, Barriers
Temporary Road Works Signs, are available at most safety Shops. Indeed, there are a variety of Temporary Road and Traffic control equipment options to choose from, such as traffic control batons, associated Barrier Boards, Reflective Traffic Cones, Delineators and Bollards. As an example for this, visit the RMS Australian Standards for NSW Temporary Road Signage Click here. and the Queensland MUTCD Standards Click here. Furthermore, read on here for more information and images regarding Australian Temporary Road and Traffic signage.
Multi-message frame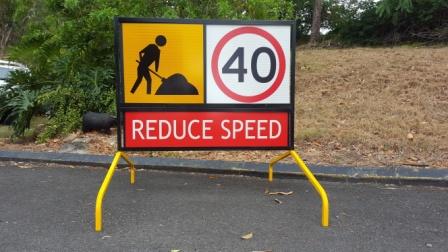 This is a steel frame with dimensions of 1200mm by 900mm. Uniquely, the Multi Message frame is designed to house 3 seperate signs. Importantly, these removable Road Work signs can be swapped in and out easily. In general, the Message Frame can be mounted on poles or by inserting 2 bi-pod legs.
Swing Stand Sign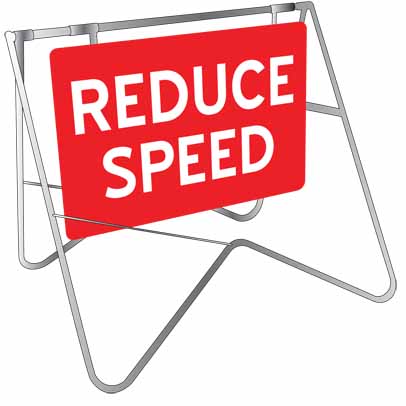 These Swing Stand Signs come in 3 main sizes: 600mm, 900mm and 1200mm. The Traffic Control or Road Work Sign swings by way of 2 tabs on the top of the Swing Stand frame. The 900mm version is the most common of these sizes. Importantly, when not in use, these Swing Stands fold flat for easy storage.
Boxed Edge Signs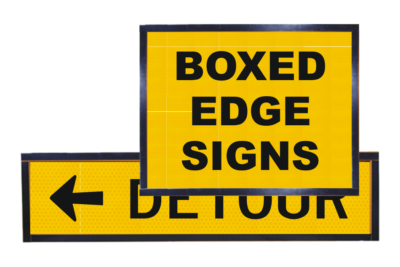 Boxed Edge Traffic Control Signs are made from Steel. They have folded edges that make a square box. Uniquely, this gives the steel additional strength and allows space for Bi-pod leg insertion. The Boxed Edge Signs have a variety of sizes right up to 2.4 metres wide by 1.2 metres high.
Plastic A-Frame Stands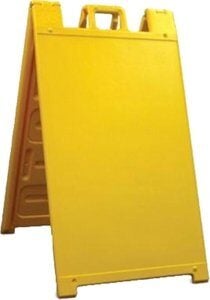 These A-Frame display boards or Stands are widely used overseas for Temporary Traffic control signs direction and Road Work Signs. However, not so much in Australia. Indeed, nationally, most A-Frame usage has been for Mining Sites, Large Facilities, Construction Sites and Business owners. Moreover, two main types of Plastic A-Frames exist. Firstly, there is a permanently printed sign A Frame. Usually, this A-Board has a double sided print. Secondly, another A-board with a recessed frame, allowing a seperate flat panel sign to be inserted. Obviously, the latter option would be best for multiple sign use.
Of course, these Display Boards would be prone to falling over in windy conditions. With this in mind, make sure the model chosen has the option of weight addition such as sand or water internally.
Summing up Similarly, there are more post you can read here: Click here and here: Click here. Thanks for reading, we hope this article has helped you.