TD-1 Sign Bracket
What is a TD-1 Sign Bracket?
A TD-1 Sign Bracket slides neatly on a Sign Post. Provided that, said pole is 60mm outside diameter, it is a perfect fit. Importantly, the TD-1 Ring Bracket has a pointed bolt that acts as a grub screw, to clamp the TD-1 in place. Additionally, the bolt's use is two fold, it also holds the sign in place. Indeed, the length of the bold is exactly right, tightening on the sign and driving into the pole simultaneously. Likewise, there is a double sided TD-1 Bracket for back to back signs.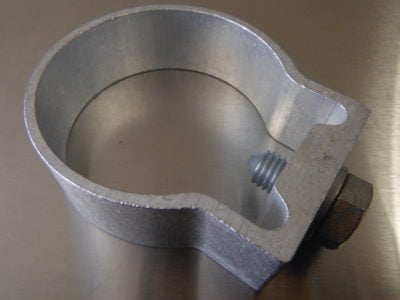 Is there an alternative to the ring Bracket?
Yes, there is a split TD1-1. The TD-1 UNI-CLAMP is split for easy mounting and holds together with a bolt. Of course, the Uni-clamp still has the same pointed bolt for sign mounting. TD-1 Uni-Clamp is also available in 76mm.